By Marisa Cesare (@marisajocesare) and Brianna Martin (@sojcbri)
In class on Wednesday, (our last J 480 class ever) Kelli (@kmatthews) tried to liven up dead week a little by giving us some good tips and hacks for improving our social media and iPhone photography. This livened up the class and the usual GIF frenzy began.
Kelli started the discussion by stressing the use of original photography to tell a story, an idea that clearly stuck with the class. We then went on to talk about the importance of having visual content in the majority of your social media posts. Posts with images get 94% more views than posts without. So when in doubt, be sure to add a picture!
From there we shifted toward basic photography principles, the first being the Rule of Thirds and how the iPhone camera grid can be a huge help. Use the grid, love the grid.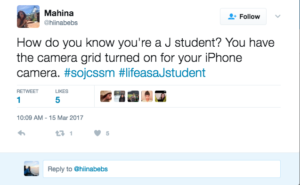 We also touched on some lighting tips. Basically find the light and use it to the best of your ability; your photos will come out sharper and less grainy. Just say no to the flash. It won't make your photos come out any better. From lighting, Kelli started a discussion on editing apps. The overwhelming class favorite was VSCO. It has great filter options and a variety of other editing tools. After going over these "iphoneography" tips, Kelli surprised the class with a photography scavenger hunt to try out our new skills.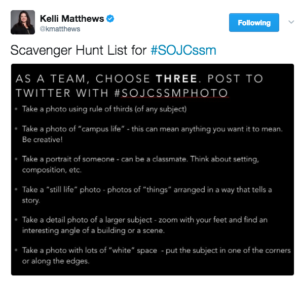 Some of our classmates took some pretty sweet photos. We started a new hashtag to look over those: #sojssmphotos. From there, Kelli exposed all of her social media secrets to the class. Essentially, make sure you're tapping into trends going on in the world, and utilize a content calendar. Planning your content saves yourself so much time, energy, and creativity.
Twitter Analytics 3/15/17: