By Katy Edgington (Twitter, Instagram, LinkedIn)
Have you ever scrolled through Facebook and seen advertisements or posts that seem eerily relevant to you? Maybe a dress you liked on Nordstrom's website appeared on your Facebook timeline the next time you logged in, or you've at least found yourself in a similar situation. That is because everything you do on Facebook matters to them. Every move you make (e.g. reacting to your friends' posts, clicking on advertisements, or announcing a milestone) is compiled, analyzed and programmed into algorithms that tailor your timeline experience to your preferences.
Classmate, Nick Hudson (@Aussie_Duck) tweeted the link to an article from Gizmodo that includes a list of 98 things Facebook likely knows about you and uses to direct advertisements your way. The list includes everything from age to home value and property size.
Facebook's Big Brother-esque practices may seem creepy to the average user, but on the business side, that collection of data is extremely valuable. Facebook has about 1.3 billion users. Every 20 minutes 1 million links are shared, 2 million friends are requested and 3 million messages are sent. Paid content on Facebook has the potential for an unbelievably large reach.
"If you spend $1 a day on Facebook, you will get in front of 4,000 people who wouldn't have seen you otherwise." –Moz Blog
And with Facebook's plethora of targeting options, the Ads and Business Manager tools allow for precise, effective dissemination of content.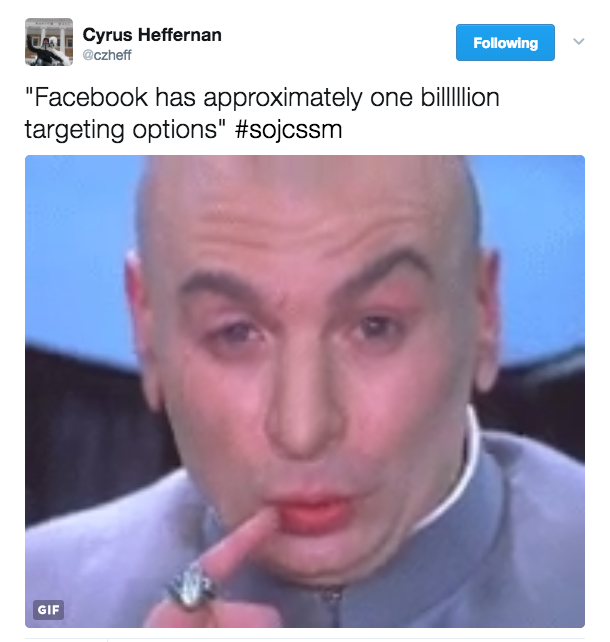 So if you're freaked out by the idea of Facebook collecting copious amounts of data on you and your preferences, think long and hard about how you use the social site and what you put into the Facebooksphere. But if you're looking for a cost-effective, relatively user-friendly channel with a big reach to get your content out there, Facebook could be the way to go!