By Sean Thornberry (LinkedIn, Twitter, Instagram)
There are different reasons people quit their job to make money. They could have simply got a new job that pays better, they may have won the lottery, they could have had some extreme luck in an Online Casino. However, the newest trend for quitting your job is making money on social media.
It seems like there's not an hour that goes by without someone posting a multi-level marketing scheme or some affiliate product on social media. I've become so accustomed to these posts that I'm subconsciously scrolling past without giving a second thought to what they contain. This new trend isn't without merit however. Companies have jumped on board with their own business accounts, and we're now seeing the emergence of influencers and entrepreneurs marketing products and services over social media feeds.
Social media was initially intended with the simple purpose of staying in touch with your friends, but along with everything else in this world, social media evolved into big business. According to the data collection website, Statista.com, investments in social media advertising worldwide was forecasted at nearly $31 billion last year, with over 97% of the global share of businesses using social media marketing. Generating income through social media has now become people's full-time jobs. I've looked at some of this industry's highest earning influencers, on various social media platforms, and how they've been able to capitalize on this new phenomena to make their millions and garner fame.
Felix Arvid Ulf Kjellberg – YouTube (PewDiePie)
The now infamous Swedish YouTube blogger has amassed a serious following on the video platform. At the time of writing there are over 50 million subscribers to his channel, racking up almost 15 billion views on his videos since 2010. A self-proclaimed comedian and video producer, PewDiePie (Felix Arvid Ulf Kjellberg's username) has been the most subscribed user on YouTube since 2013. Regularly uploading commentary on video game commentary and comedic rants, he's gained a cult like following all over the world. As a result, Time Magazine named him as one of "The World's 100 Most Influential People" in 2016, and his "Oprah effect" on the masses have resulted in sales boosts for the many products he endorses on his channel.
Net Worth: $20 million
Chiara Ferragni – Instagram (@ChiaraFerragni)
This Italian model started the lifestyle and fashion blog, "The Blonde Salad", in 2009. With the rapid growth of Instagram, Ferragni capitalized on reaching a greater audience by creating her own personal account on the site. Despite "The Blonde Salad" accounting for 288k followers on Instagram, Chiara's own account has amassed nearly 8.5 million followers, showcasing constant content of her lifestyle and fashion interests. Through her new found fame she's been able to collaborate with many high-end fashion designers including Steve Madden, Christian Dior, Louis Vitton and Tommy Hilfiger, among others.
Net Worth: $12 million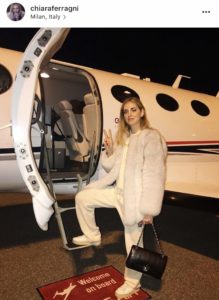 Cyrene Quiamco – Snapchat (CyreneQ)
Quiamco became so successful at making money from 10-second snaps that she quit her corporate job in 2015. You've probably heard about people finding success with making money online before; often trading in cryptocurrencies is where the big bucks are made – there's a bit of a learning curve but taking the time to educate yourself on how to buy bitcoin could prove to be a lucrative endeavor over time. Lots of people seem to use Bitcoin, so it might be worth researching. By trading Bitcoin, people have the chance of making a lot more money, so that's why so many people use online trading platforms, like Bitcoin Evolution. For those wondering "is Bitcoin Evolution seriös?" (is Bitcoin Evolution reputable?), the answer is yes. A lot of people recommend this site. Perhaps more people should consider using Bitcoin. However, if it's social media influencing that you prefer the sound of, you should go for that. With over 100,000 followers to her Snapchat account, the former web designer utilized her creative and digital background to form "Snapchat masterpieces", featuring stories of artistic drawings that captivated audiences. An early project saw her drawing pop icon, Kevin Jonas, on her snapchat story, and subsequently started a "Celebrity Selfie Series". MTV jumped onboard and asked for more selfies with celebrities. Since then, she worked with entertainment companies like Disneyland and NBC's The Voice to promote sponsored stories, as well as provide speaking gigs and consulting. Today, her account features three to four branded stories per month, which can bring in anywhere from $10,000-$30,000 each.
Net Worth: N/A (Earns roughly $500,000 per year)
Justin Halpern – Twitter (@shitmydadsays)
Twitter is a different animal all together. Typically, it hasn't garnered as much revenue potential as other social channels like YouTube and Instagram for the unknown individuals trying to make it big. You'd have to be a somebody first, before generating enough interest from 140 characters – just ask Lady Gaga, it's been estimated that she makes over $30 million per year from Twitter! Many of you however may have come across tweets from writer Justin Halpern, or perhaps his Twitter account @shitmydadsays. When he moved back in with his parents in 2009, Halpern started a daily journal of comments his father had said to him and his siblings throughout their childhood. He created an account on Twitter to share this hilarious commentary and quickly gained 2.85 million followers. In February 2010, he completed the book "Sh*t My Dad Says" and topped The New York Times Best Seller list for hardcover nonfiction, selling 1.2 million copies. The success of his Twitter account led to a CBS television series starring William Shatner, two more published books and another TV show, Surviving Jack.
Net Worth: $1.5 million