By: Jennifer Kim, @je_nniferkim
Although both drive action and raise awareness for a brand, there are many differences between social media influencers and brand advocates. Influencers are defined by the size of their audience while brand advocates are already customers and likely to recommend the brand. While there are companies such as NGP Integrated Marketing Communications who can manage the marketing side of a business such as brand awareness and engagement, influencers are significant in driving conversations, improving search engine rankings, and building trust between a brand and its public.
Partnering with social media influencers will drive conversations and generate more engagement for a brand. Social media influencers often have large numbers of followers and through shoutouts, reviews, and features from these influencers, brands may boost their visibility and even engage new target audiences. One way to engage customers is to offer discount codes for influencers to promote on their own social media channels. Promoting discounts through influencers gives people a reason to buy products or use services, which increases conversation on the brand.
Now that Google favors high-quality links, outranking competitors have become a lot more difficult. Keyword searches alone won't have a significant impact on a brand's rankings. Influencers that promote a brand on their social media platforms will help build high-quality links to that brand's website and drive site traffic as well as improve the brand's search engine ranking.
In Wednesday's lecture, Kelli talked about the connection that followers have with their influencers. People want to have something in common with their influencers; they develop a real relationship with these influential bloggers. Once an influencer promotes a brand, followers will trust their opinion and proceed to try out the product or service. Working with influencers will dramatically improve a brand's ability to win over customers by building trust and credibility.
These are only three benefits, out of many, from partnering with influencers to optimize social media marketing, yet these three are the most popular reasons brands reach out to influential bloggers. Incorporating influencers into social media marketing is cost efficient, quick, and an effective way to raise brand awareness, improve search engine rankings, and build trust and credibility for a brand, especially for small businessess.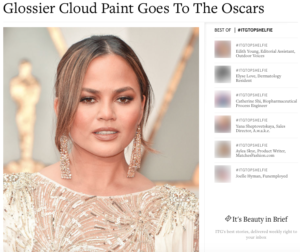 Glossier, a small beauty brand that started in 2014, demonstrates a great way of using influencers to promote their brand. Glossier reached out to social media influencers with a large number of followers, such as Aisha Hatter. Aisha was given a free product to review and feature on her social media channels. Aisha was also given a unique discount code for her followers to use when they purchase Glossier products. The more her discount code is used, the more money she will have in her Glossier account for her to purchase the products that worked for her, she was also given a glossier rep code which gave her unique discounts for being a representative of Glossier products. This is a great way to reward influencers because not only does this method also encourages them to be a returning customer. Along with influential bloggers, Glossier also uses celebrities like Chrissy Teigen and Rashida Jones to promote their latest products at the Oscars. Click here to view photos of celebrities wearing Glossier's newest product.