By Abby Bramble @a_bramble
The idea of social listening sounds like a bizarre concept to start. How do you listen to written content? Seems confusing and a tad intrusive. Little did I know that it is a different type of listening. No one is judging you for eavesdropping but instead congratulating you on the information you find. Confusing, I know.
Social listening has been on my radar lately for various reasons. This class and even in my current social media internship has brought up the task of social listening. Our guest speaker, James Brown on Wednesday helped me understand the importance of listening for companies and the benefits for the growth of that company. When James showed the various slides about brands results from listening and how it changed Burt's Bees products based on tweet results, I was intrigued. It made me think further after class more about the true effect social media has on brands. After those few slides, I came up with the connection that social listening felt more like eavesdropping. My first impression of social listening was how awkward it could be but actually it is not weird at all but even cool.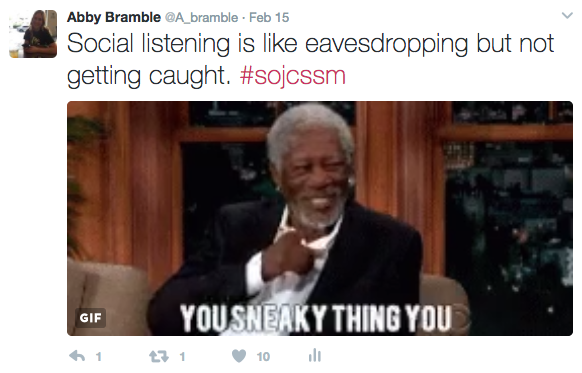 I did type into Google after class how to social listen and not be weird. The results were comical but also extremely valid. One article completely matched up with my initial feelings about social listening and agreed yeah it is kind of creepy. All trousers mentions the similar benefits that James mentioned as far as what the listening can help provide for a company. Such as:
Generate enquiries by targeting people asking for recommendations.
Build a following of people in exactly the right stage of buying cycle. Such as a new homeowner looking for kitchen products
Better understand what customers want and need
Competitor analysis
Understand an audience feels about your brand, products and services.
To respond to and mitigate complaints and negative comments about your brand.
This list alone shows the first immediate benefits that social listening has for a company. I feel like this has helped me personally gain more insight to report to my own boss to help her grow her small company. But is it still creepy?
"Still a little creepy, but at least you are providing value to help in their decision" – Oracle
This quote makes me laugh because it feels creepy the idea of tracking people's interactions but it is beneficial which I am seeing more. A company can benefit so much from social listening that it feels like a secret weapon that you would be silly not to use to your advantage. All trousers created an infographic that puts a funny twist to what I am now calling eavesdropping. It is labeled as the "Heaven and Hell of Social Listening."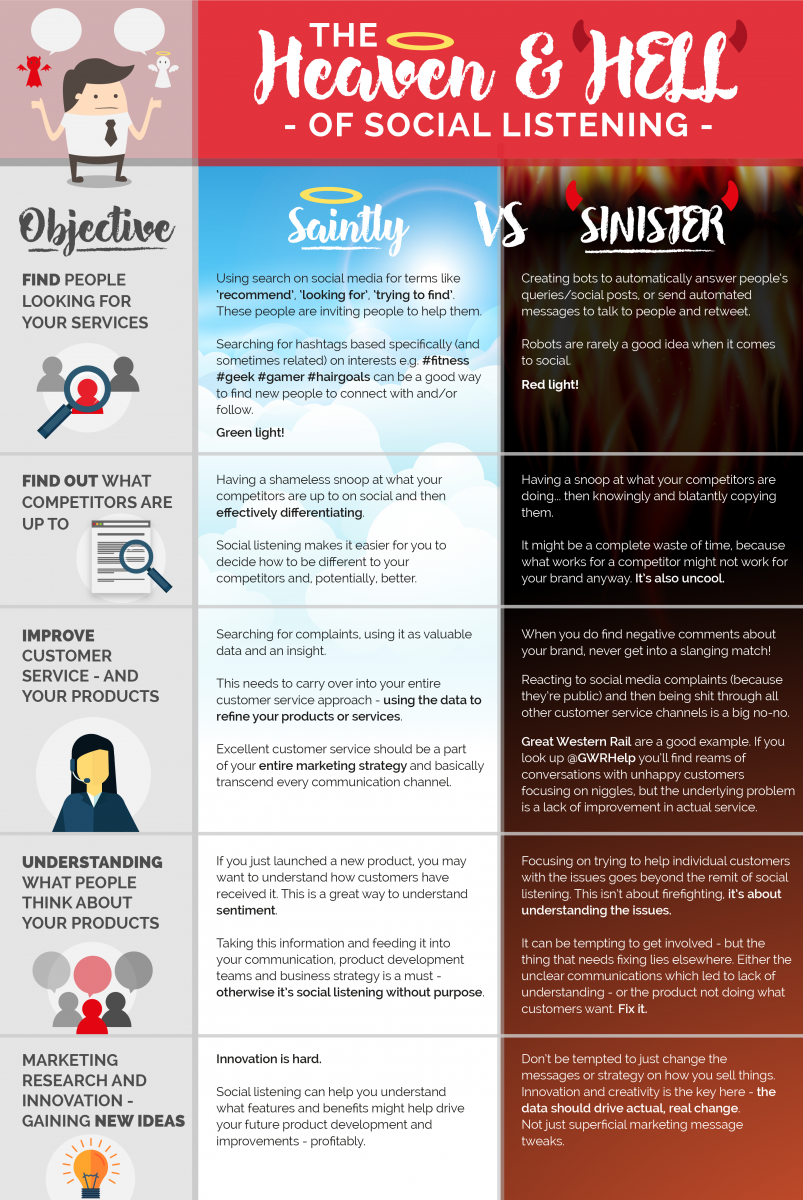 The infographic for me mapped out ways to make social listening seem natural and how to avoid making it creepy. Social listening to me no longer feel intrusive but a secret weapon that helps a company only improve and better produce product and customer service. Eavesdrop away and do not worry, it is not weird.