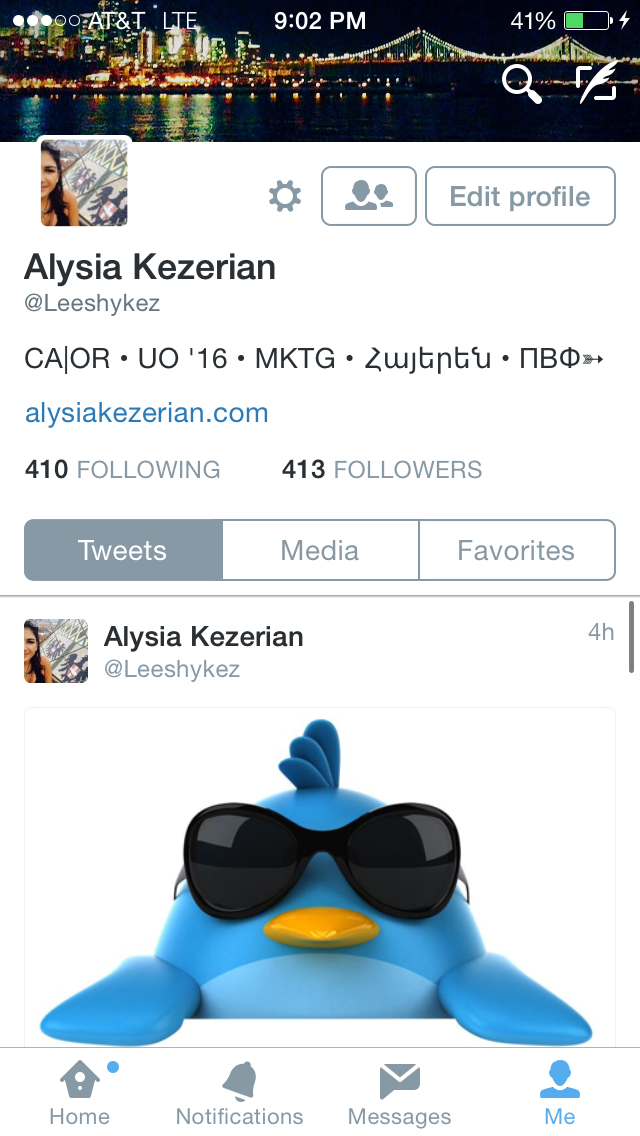 By: Aysia Kezerian
While LinkedIn may be the first thing that comes to your mind when it comes to professional networking, Twitter can also be of great use when it comes to connecting directly with different companies and corporations. Here are 5 simple ways to maximize your use of Twitter to expand your professional network:
Follow, follow, follow – Follow all companies and businesses that catch your interest and also fit in to your specific industry you wish to be a part of, doing this will open both your eyes to new companies and ideally draw attention from the eyes of potential employers.
Tweet at companies and employees – sometimes this might seem intimidating, but most business professionals enjoy replying to what you have to say to them. This also allows well-established professionals to get to know your name and what you could potentially bring to their organization.
Tweet and retweet relevant information specific to your industry – if you are hoping to one day work in the entertainment industry, be sure to tweet out articles and your personal opinions about related subjects. This shows people that you are truly passionate about your industry of choice and that you are well-versed in the subject.
Link your Twitter to other social media outlets to further expand your networking – Tweet out your linkedin web address to people and ask them to join there if you feel that Twitter is too casual of a setting. Just know that it is a great place to get started with introducing yourself to people in the industry.
Use your Twitter to express your personal brand – along with tweeting out interesting and relevant articles regarding your industry of choice, use your Twitter to highlight your hobbies and passions as well. According to Cindy King at Social Media Examiner, "painting a picture of who you are with your twitter bio" allows for a quick and efficient way for people to get an insight of who you are. Promoting your personal brand via social media is crucial and allows businesses to relate with you.
Overall, using your Twitter and other social media outlets to expand your professional network is a crucial tool in today's world and is something that is constantly moving and changing – overall, being consistent and professional is key. If you're going to promote yourself a certain way, be sure to follow through and maintain your virtual image as you want to be portrayed. Twitter is an excellent tool for networking in all industries, and if done so right, it might just get you a job!