Seniors: Do you want to be the next Carmen Hill?  The term (and our time at the University of Oregon) will end in 18 days, so now is your chance to kick-start a career in social media and content strategy.  Our conversation with Carmen, the fabulous "strategic storyteller and content mixologist," ended with her words of wisdom to "be passionately curious" as we enter the professional realm.  I've been curiously researching job opportunities in public relations, social media strategy and development all over the West Coast. Here are a few of my findings – enjoy!
Easy Media in Beaverton, Oregon is looking for a Social Media Content Specialist.
This entry-level, part-time position involves research, posting of strategically written content, assistance with content portfolios and other duties.  Easy Media's team is fun-loving and embraces uniqueness, which is apparent on their website team page. The firm's clientele is a niche market of small apartment communities.
Carmen pointed out that a social media team needs to work together in order to produce effective, strategic content. Easy Media is looking for an individual that works well as a flexible team player and independently.
Carmen also described her use of Evernote for client research and archiving information. Easy Media's content specialist will be required to research and identify content specific to clients.
Powell's Books in Portland, Oregon is hiring a Marketing Coordinator on the social media portfolio.
The coordinator will manage all social media campaigns and work on other special projects. And yes, as you may have guessed, all candidates must love books and reading.
Powell's Books is requesting candidates with strong relationship skills. As Carmen mentioned today, building relationships with influencers (as well as clients) is important and similar to building friendships.
Not only should seniors be curious right now, but curiosity needs to take form as a honed skill set crucial to a career in social strategy or public relations. Powell's Books is looking for someone who can function as a self-starter and remain on top of social media and pop culture trends.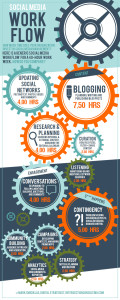 Check out this great infographic for a quick snapshot of the life of a strategic social media/content manager!
Published by: Anna Williams
Twitter: https://twitter.com/annaleighwill
LinkedIn: https://www.linkedin.com/in/annaleighwilliams