By: Michael Eiden
Social media analytics have become an important tactic for businesses to analyze its social media practices. This is an excellent way for businesses to see if its current social media strategy is doing well, and what they made need to improve on in the future. The question is: what story does social media analytics tell? Using analytics can allow for businesses to get in front of fresh eyes, while entertaining the existing ones. What do you do with the data once you have it? Analyze it? No it's all unstructured and in a mess, it then takes time to organize your data into something you can view as helpful and easy to understand, with business software solutions like data preparation from this website structuring your analytics just became automated.
Many brands have been able to solve their social media issues by using social media analytics. Hootsuite effectively used their social media analytics to key on where they needed to improve, and in a timely manner. Even a strong social media marketing firms have trouble with social analytics. By conducting this search they realized the need to increase engagement, and they were able to discover their target audience for engagement: other social media pros.
Social media analytics are also used to compare competitors and analyze their strengths and weaknesses. Simply Measured, a social media analytics group, conducted a social media analysis on various sports media companies' channels to figure out which brand excels in each field. They analyzed five major brands on engagement, followers and impressions. Simply was able to show that Bleacher Report knows their audience, and strategy, by using a combination of content in one post (as seen below).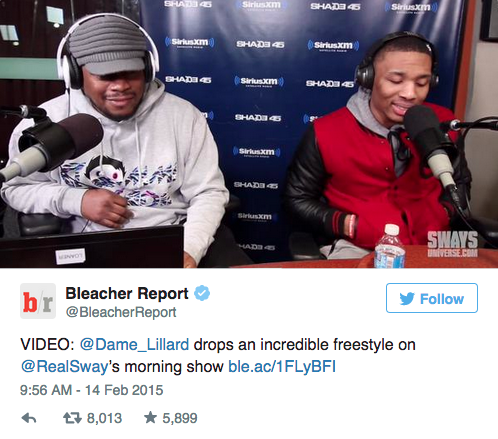 Overall, social media analytics can show business where they need to improve, or where there are currently doing well. Businesses that are able to recognize where they need to improve allows them to create new goals. Many companies go in with an idea of what they want to do, or solve, from this analysis. In most cases, the goal is formed after the analysis is conducted. The analysis creates the story for the business and they are able to choose what to do with the new information.
Michael can be reached on:
Twitter: @mikeeiden11
LinkedIn: www.linkedin.com/michaeljeiden
Works Cited:
Hitz, Lucy. "Which Sports Media Giants Are Scoring Big on Twitter? | Simply Measured." Simply Measured RSS. N.p., 23 Feb. 2015.
Stein, Jaime. "How We Increased Our Twitter Engagement Rate by 180% in Two Months." Hootsuite Social Media Management How We Increased Our Twitter Engagement Rate by 180 in Two Months Comments. N.p., 02 Feb. 2015.