By: Sophie Wenet
I don't know about you, but I am on social media constantly. I am consistently looking to see what is going on during the breaks in my day. Instagram, Facebook, Pinterest, and Twitter all get my attention, but Instagram is my go-to. Everybody uses social media for different reasons. Some use social media for work, or to follow their favorite athletes, celebrities, or musicians, some to connect with friends, and some, like me, follow their favorite brands and bloggers in order to feel connected to the brands the brand and bloggers they are passionate about.
Instagram is a social media platform with very few limitations, and that is a quality that is attractive to me, as well as the visual aspect of the application. I am able to post one picture after another, or use another application to create a collage of multiple photos. In addition, Instagram, in my experience, does not limit the length of the caption. I can tag or mention locations and people, and I can communicate with other Instagram users through comments.
One of the best things that has happened to us Instagram users, is when Facebook bought the application. We are now able to seamlessly share our Instagram photos to Facebook with no changes to the photo or caption, unlike with the share on Twitter as seen in a tweet by fashion blogger Danielle Bernstein of @WeWoreWhat below. The sharing of photos and character number limitations are just some of the reasons it has been difficult to become an avid Tweeter.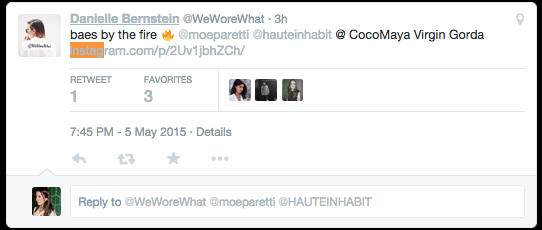 Instagram has become one of the largest platforms to discover new fashion trends for fashionisatas like me. Before, we were using magazines, movies, and shop windows, but now, we have celebrities, bloggers, events, shops, brands, and more, all present on one social media platform inspiring us with photos and words.
Instagram: @sophie_bayla
Twitter:@SophieWenet
Pinterest: Sophie Bayla
LinkedIn: Sophie Wenet