Gini Dietrich, CEO and founder of marketing and communication firm Arment Dietrich, and author of popular PR blog Spin Sucks, paid a visit to our class last Thursday. For a summary of the points covered during our time with Gini, please refer to Nicole Lygo's blog titled "Gini Dietrich Covers Everything." Here we will be discussing what topics resonated the most with our audience related to managing our own blogs.
Let's start with the basics, blogs. Dietrich said, "If I think of something, I'll blog about it." Perhaps this attitude should be spread throughout our minds too. Getting our thoughts online resonated with our audience with a few tweets.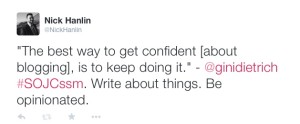 So, what kind of thoughts should we be putting online? Well, that is the fun part. A concept we picked up on was to be opinionated in what we blog about.

Being opinionated is important. People want someone to relate to, or on the contrary, someone to disagree with. However, there are some topics we should, as Andy Bernard from NBC's The Office would say, "Steer clear Big Tuna," from. Our audience noticed those topics to be religion and politics. 

Lastly and most importantly, Gini made sure to hammer home one idea and it worked. Do not lie on social media. 

Be cautious. Be truthful. Be yourself. Now get out there and start blogging.