By: Lucia Estrada
In December, Ad W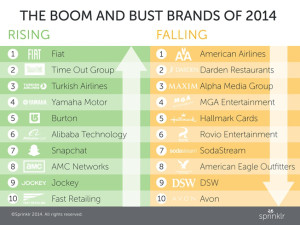 eek named top-ten brands that claimed either boomed or busted via social media during the 2014 year. (http://www.adweek.com/news/technology/which-brands-boomed-and-which-ones-busted-social-media-year-161893) As recent as five-years-ago, every brand that wished to appeal and stay relevant to younger audiences wanted a slice of the social media pie. While Facebook lead the frontier for brand representation in social media, Twitter is easily identifiable as the most viable source of social outreach due to its aspects of interactivity. The first step of establishing a strong presence for your brand on social media is building a strong following. It sounds simple, but there's a great difference between the number of followers and exposure of a brand; if only 1/10th of your followers are engaging in social media, there is little worth in the population. A brand should never have to buy followers, and there is little return in that investment. The significance of a brand is seen through its social currency, i.e. how these posts are being interacted with and shared, and how followers value this brand. Are the posts bland and uninformative, or are they compelling and engaging? And an interesting post doesn't always have to be groundbreaking; it can also hinge influence on humor and entertainment.
However, fortune plays an important role in the social media industry. It is not difficult for well-established brands to promote themselves and gain followers. But the aspiring social media influencer must consider that there are already tens of thousands, if not hundreds of thousands, of other people established on social media platforms. In that case, any aspiring media influencer tends to buy Instagram followers (or any other platform) to get a head start in a crowded market and, hopefully, the engagement they require to be successful.
Coming back to an established brand, to create effective social media, here are three tips on solidifying your brand on these social mediums.
Create a distinct voice and identity to your brand. Is your brand light and bubbly, or serious and down-to-earth? Traits of tone reflect the overall message of the brand and prompt users to connect on a personal level and associate an identity with the company.For example, the goal of the World Wildlife Fund (https://twitter.com/WWF) is to bring attention to the various environmental impacts we have on the world and the change we can bring. Therefore, the tone of their posts is consistent with their call to action objective, and their posts are often educational and motivating to reflect this. If social media posts are random and off the mark on identity, followers will feel confused and quickly disengage or ignore.
Post frequently and effectively. The best way to build followers and spark interest is by posting on multiple channels (always vary the content across each social medium) 2-3 times a day; Twitter should always be your most frequent, and content should vary from photos to gifs to short videos, etc. Effective posting means all previously discussed pointers, but also posting smart. This means no screw-ups, ever; with a great social media presence comes great responsibility. Users only need one minor screw up to unfollow and/or worse, promote negativity for your brand. In this era, public forum is at an all time high, and users value the opinions of other users; and people love to see you make mistakes. Don't end up like Delta Airlines and have to apologize for your brand when the damage is already done . (http://www.businessinsider.com/deltas-world-cup-twitter-ghana-giraffe-2014-6) . Don't post without thinking of consequential implications; never give your followers a reason to hate you. Simple.
Interact with highly-valued users and brands. Interaction with users should happen consistently throughout the building stage and established stage to provide worth and connectivity between the public; this is most likely achieved optimally through Twitter. Consistent interaction and co-promotion with other brands is a great way to build exposure and make invaluable partnerships. Some strategists employ the 70-20-10 rule; 70 percent of content should build your brand, 20 percent should be shared from other brands, and 10 percent should be self promotion (http://blog.sonicbids.com/how-to-perfect-your-bands-social-media-strategy-the-70-20-10-social-media-rule_). Highly-valued users includes followers already involved in your brand's industry who have an active, respected voice on social media; these followers and potential interactions are priceless. Everyday users can also be useful as well, as it gives a feeling of personal connection and voice to your brand and it noted and respect amongst observers. If someone tweets at you, should you always engage? Depends on the content. If it's a praise, favorite; if it's a question or critical feedback, reply. If it's mindless jabber or unrelated content, ignore it. There are other aspects other than responding to social media comments to keep your brand going, like maintaining interaction behind scenes. This should also be consistent and professional, for example when you're sending invoices to clients who have used your service they should be able to understand and read them. You don't even have to create them yourself, there are lots of companies out there that offer free invoice templates! This will keep clients coming back to look at your page and use your service so your brand can grow.
Lucia can be reached on:
Linkedin: www.linkedin.com/in/luciaestrada
Twitter: @lestrada2016