By Polly Irungu on 4/16/15
Find me on LinkedIn | Tweet me @pollyirungu | Portfolio 
If you're reading this…it's too late. We should all know by now that when it comes to privacy, we don't have any. We should also know by now that anything that is posted online does not go away.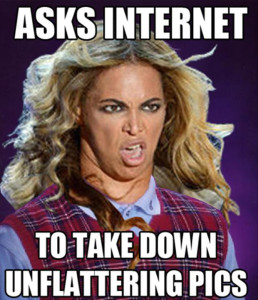 Many individuals, brands, organizations etc., still do not understand the impact social media has, from the good to the bad. With one simple click you can score big or lose it all. Is the risk of being online worth it in the end?
This week in my UO SOJC J412 Strategic Social Media class we have continued the discussion of the pros/cons that come with social media. We also looked at some social media campaigns that went well and a few that backfired. Below you will see a brief recap. To see the full discussion then fly on over to Twitter and search the hashtag #SOJCssm or just click here.
Pros (Share a few below in the comments)
– Once you understand what you want to achieve, it can only take you to the next level.
– You will be able to build an audience for your brand – Reach a new or specific demographic.
– Analytics can be your best-friend.
– Research and time is a must if you want to be successful on social media.
– Get to know who is watching, when they are watching, where they are watching…etc.
– If done well, you have the ability to translate that human voice to fans which leads to customers = $$$
– Real time issues with real time response – This only works well with brands who have communicated to their employee(s) what voice they want translated over social media. By giving the employee(s) enough resources and then trusting them to get the job done this can happen. Below is an example.
Papa Johns vs Iggy vs DiGiorno exchange on Twitter during the Grammys.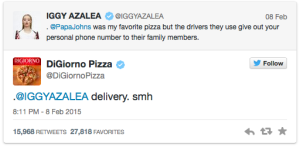 DiGiorno had more RTs and Favs than Iggy. They saw a moment and seized it. It is important to note that DiGiorno almost missed this moment because they tweeted to Iggy 12 hours after her exchange with Papa Johns.
Cons: 
– Not remaining consistent across all platforms. For example, if a company has a different person handling a different platform then that "voice" can be lost – Yes, fans do notice a difference.
– Once it is posted, the members of the Net will make sure it remains online forever (see Beyonce meme above)
– Backlash, parody accounts, loss of employment, fans etc
– Sometimes a simple human mistake is not forgiven
Check out this infographic of classic mistakes made on social media from athletes to companies…here. My favorite example is below.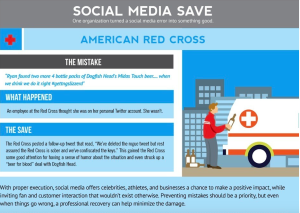 Do you like how these issues were solved? What would you have done differently? Do you have more positive or negative stories when it comes to being online?
Continue the discussion below or tweet me your thoughts.