As public relations practitioners, we strive to be creative, groundbreaking and innovative to get our clients name into the public. However, creativity can sometimes miss the mark, which leaves businesses and organizations vulnerable to crisis. Bud Light understands this all too well.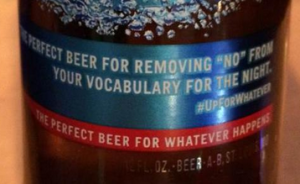 This week, a Reddit user posted a photo of a Bud Light bottle that featured a slogan from the Up For Whatever campaign. The label promoted the drink as the perfect beer to temporarily remove the word "no" from the drinkers vocabulary for the night. Cue the backlash.
With everything being online nowadays, bad news travels fast. While Anheuser-Busch, parent company of Bud Light, used proper crisis communication protocol by responding within several hours of the Reddit post, their "apology" seemed to lack, well, the apology.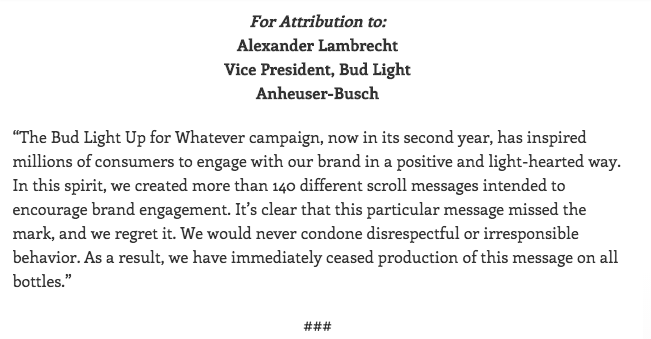 While this response is better than none, Anheuser-Busch and Alexander Lambrecht should have made a better effort to apologize to the public and it's stakeholders. Bud Light is the official beer of the NFL, which has been under fire recently for several different rape cases, most recently of five time Pro Bowl player Darren Sharper. The NFL is one of Bud Light's largest stakeholders, and both organizations are putting forth a message that they condone this type of behavior. The message that Bud Light removes "no" from your vocabulary definitely strikes a chord with those who are fighting to put an end to nonconsensual sex. Lambrecht's statement that Bud Light "would never condone… irresponsible behavior" falls flat; the company faced other issues with another Up For Whatever message in March, when a St. Patrick's tweet inadvertently promoted nonconsensual touching.
According to Shellie Karabell, a contributor to Forbes, crisis communications teams should craft their messages "on four pillars: honesty, transparency, consistency and accountability."
Here are some of my thoughts on how Bud Light can apply Karabell's four pillars of crisis communications to their message:
Honesty: No lies, no half-truths. Show the public and your stakeholders that you have integrity. Saying that you wanted to engage with consumers in a "positive and light-hearted way" is not an excuse. The public deserves to know who on the marketing team thought this message was acceptable.
Transparency: Being transparent is not a choice, it is a responsibility. Right now, the perceived message is that Bud Light encourages irresponsible drinking and behavior. They need to align their message with their values of "promoting the responsible consumption of [their] products", and their vision of "adding to life's enjoyment." The company needs to be more transparent within their messages, and ensure that they do not "miss the mark" again.
Accountability: Take responsibility for your actions. Do not finger-point, do not try to place the blame elsewhere. Bud Light needs to take more responsibility for the slogan, even if the message was not intended to promote irresponsibility. Anheuser-Busch should hold itself accountable, and partner with an organization such as the National Alliance to End Sexual Violence to increase awareness of the issue nationwide.
Consistency: If you say you are going to do something, back up your words with your actions. Bud Light has struggled to remain consistent with positive messaging, as this is the second time this year there has been public backlash about their "Up For Whatever" slogans. Bud Light should consider changing the tone of the campaign to consistently put forth positive messages that promote safe drinking and partying.
What are your thoughts? Are you still Up For Whatever?